Guaranteed grub free turf for 3 months from the date this turf was delivered!
All turf grown by Millers Turf is treated with DuPont Acelepryn. This product is the latest innovation in the control of grubs in your lawn.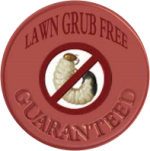 Traditionally, to treat for grubs in your lawn you would have to spray several potentially toxic chemicals on the leaf of the plant.
Acelepryn however is a nontoxic insect killer, which when sprayed onto the leaves is absorbed and moves upwards within the plant, where it is then digested by the grub, disrupts its feeding patterns, and eventually causes it to starve. Acelepryn is NOT a poison and is safe for your whole family & your pets.
We believe so much in DuPont Acelepryn we will guarantee that if you find turf damage caused by grubs within three months of delivery of your turf we will re-spray with DuPont Acelepryn.
Environmentally Friendly
Non Toxic
Kid Friendly
Our Products
Millers Turf also has a commercial division to manage turf solutions for local councils, private & public schools, sporting organisations and commercial developments.

New projects or renovations? Millers Turf Supplies, for all of your turf requirements.

Millers Turf is Sydney's premier grower and supplier of Sir Walter Premium Buffalo Turf

If you are looking for a premium lawn solution for your home you have found the right place. Spectacular lawn in an instant!

Our Products
Want to know more about our products, we are here to help you?
Just call or contact us to have a little chat with us.